Many marketers draw hard lines between copywriting and content marketing. This makes them wonder if they should hire a copywriter or a content marketer. While I see a lot of crossover between the two, there is a distinct difference in focus between copywriting and content marketing.
Just as a carpenter could make you a decent builder due to the overlapping skills, so these two skills overlap.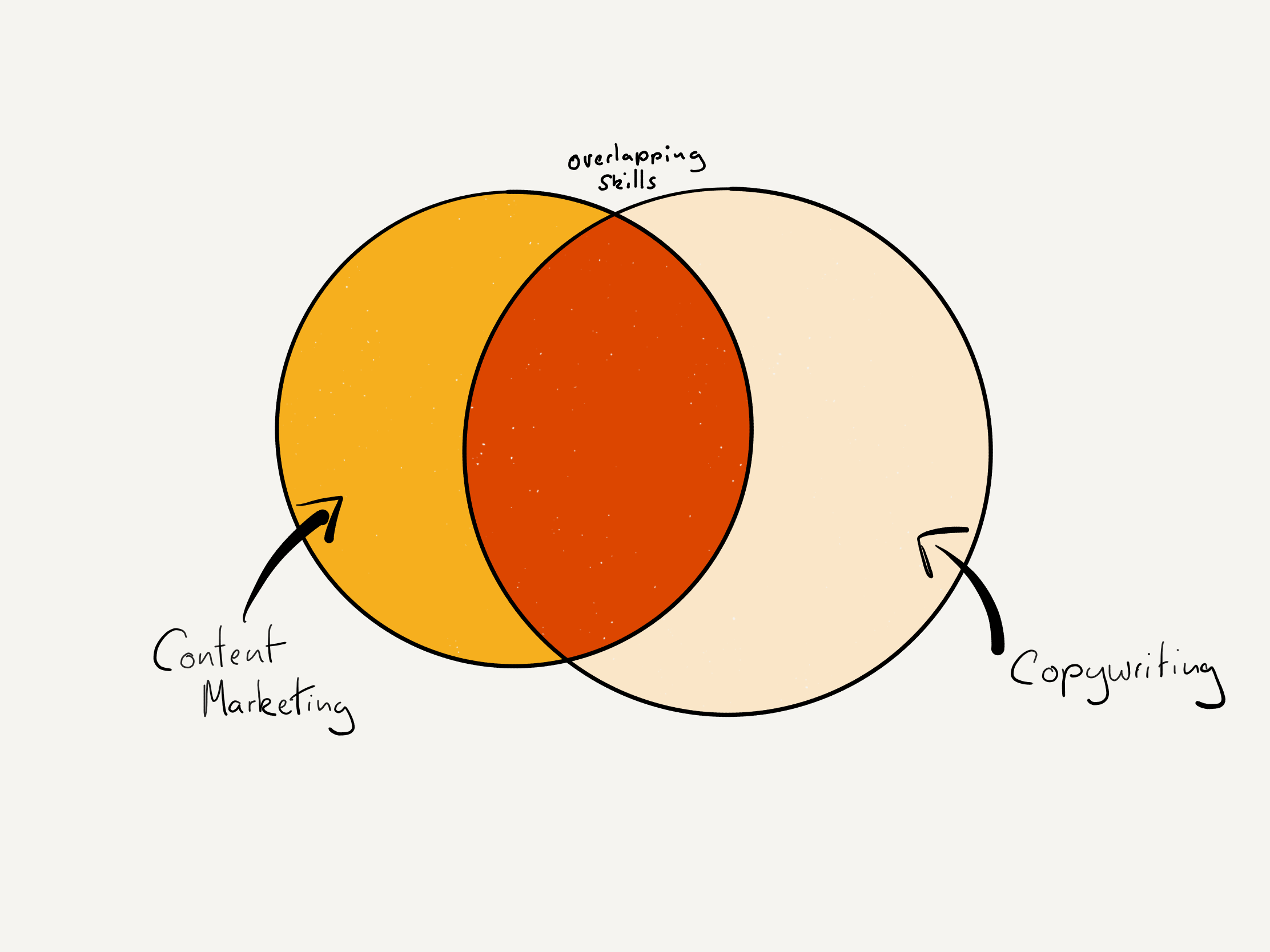 What is Copywriting?
Copywriting is any writing that goes into advertising. Within copywriting, there are many different varieties from single word ads to long sales pages.
There are copywriters who work for advertising agencies and specialize in single areas of copywriting and there are in-house and freelance all-rounders who will take on every aspect.
For some people, copywriting means any writing for a commercial purpose or writing to drive action. And so you can find specialist copywriters like User Interface Copywriters even though a user interface is not an advert…usually.
What is Content Marketing?
Content marketing is creating media—including written articles, audio, videos, and graphics—to reach a marketing goal. In the modern internet era, this is most often seen as articles which are found in search results and so help a company increase brand awareness on a topic.
Perhaps that's why, to the average joe, a content marketer often means someone who writes articles. And the view that a content writer is a freelance writer on a topic and not working towards a marketing goal. From this perspective, content marketing is less valuable.
However, a different view can also be taken. One where copywriting is considered a smaller part in the larger content marketing.
This makes sense as technically, copywriting is creating content for a marketing goal but limited to the more sales orientated part. From this perspective, the copywriter is the one who is merely writing and the content marketer is the one setting the plan.
So depending on a person or companies perspective, copywriting may be a part of content marketing, or they may be completely separate.
Personally, copywriting or Content Marketing and Copywriting
The most important thing is to be aware of how people define these words and look for evidence to confirm that.
If they call themselves a content marketer and talk about strategy, they are probably more the big picture person than an article writer.
If they call themselves a copywriter and talk about writing articles then they might not be able to write your sales emails.
My personal definitions are that a copywriter writes copy for action, a content marketer writes material for long-term goals. And a marketer focuses on strategy. But I still make sure I listen to the client and what they expect.
I'll use my definitions for the rest of this article.
When You Should Hire a Copywriter?
When you need to get more prospective clients or customers or turn prospects into actual clients and customers, you need a copywriter.
When you have poor performing webpages or emails then you need a copywriter.
When you need your homepage redesigned then you need a copywriter.
When you are about to launch a new product or service you need a copywriter to get the launch copy ready.
Basically, when you have to explain a product or service and your words aren't working, you need a copywriter.
Read here to find out why finding the copywriter is like dating.
When You Should Hire a Content Marketer
Content marketing is great for raising your search and social brand profile. It's extremely useful for the top end of the funnel. When you share useful content, new prospects will find you when they are blissfully unaware of problem and solution aware.
Good content marketing can increase the trust a reader has in your brand and bring awareness to your solution before they even know they need it.
That's great for getting new customers and turning customers into repeat customers.
Should you hire a copywriter or content marketer?
These skills overlap and a good business strategy should involve both. In some situations, you should hire a content marketer but in other situations, you should hire a copywriter.
Read this article to learn how to hire a copywriter.